Uzbekistan (UzDaily.uz) – Today, the president of Uzbekistan – Shavkat Mirziyoyev learned a news about the project of building a municipal solid waste treatment station in Khorezm region. This action plays an important role in disposing the city waste, which has won the supporting from the Uzbekistan government.
Uzbekistan refuses the traditional method to treat the municipal solid waste, such as landfill, incineration. The local people have realized that these waste can be processed into raw materials to produce the marketable products. Now, there are still many cities throwing the municipal wastes into the special landfill sites directly and have no treatment on them. However, a new raw material market – waste sorting plant will enter the international enterprises' views. There are several plants will be built in some areas that includes Khorezm region. All of these have proved that how much attention the Uzbekistan attach to this project.
The factory will be located in khorezm region of Uzbekistan, and its area is about 15 acres. The National Bank of Uzbekistan has invested about 7 billion dollars to build this plant, while the Hematoxylin has invested 9.7 million dollars. The most important information is that the whole recycling production line will be provided by a Chinese manufacturer, Beston (Henan) Machinery Co. ltd..
It is expected that the construction of this industrial area will be completed and put into production by the end of 2017. Besides, this industry will plan to deal with the annual capacity of municipal solid waste which is near 9 million tons. In addition, the company will be equipped with sorting equipment, through which the raw materials will be sorted and further processed to produce marketable products. In short, the garbage separation machine can divide the municipal solid wastes into six kinds of new products including plastic, rudder, metal, glasses and etc.
The new raw materials can be used to process more useful products: for example, the rubber, tire, glass paper and plastic can be used to produce the fuel oil by pyrolysis plant; and the residue can be reprocessed into fine carbon black to made into honeycomb briquette; the plastics of drinks can be use in the industries of textile and construction; the constructional waste can be made into wall material blocks. So all the materials have their own right places, we should take fully advantages of them.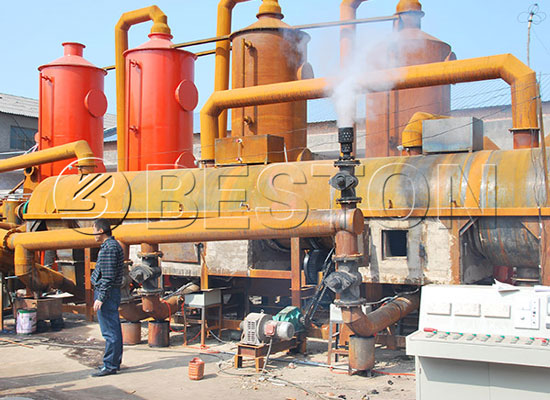 The plant can make full use of the various waste in the local surrounding environment. A plant that is engaged in collecting waste paper can become the package plant, while the waste fruits and vegetables can be used as the raw material to produce the plant bio-gas and fertilizer. Every thing has its reason to exist, so we should learn to find the value to make more treasure. The sorting system will be shipped to the local as soon as possible.